In Canada, that's pronounced "The 'Zed' Word." But we're weird up here. We also pronounce "Columbus Day" 'Thanksgiving.'
Okay, jokes end…
Author of Zombie books and close, personal friend Bella Street is giving away copies of the first in her Apocalypse Babes series, The Z Word. Just head over to Amazon and download it for your Kindle.
Blurb, from ApocalypseBabes.com: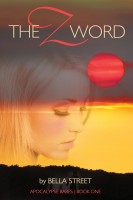 Book One of Apocalypse Babes, The Z Word, follows Seffy Carter and her longtime friends Gareth, Addison and Lani. The four besties share a past dysfunctional and dark enough to keep them bound together under do-over identities. But rends develop in their relationships from the flesh-eating pressures of ending up in 1980, in a Montana desert, surrounded by zombies wearing dated disco duds.
Claim your free copy now! It's a limited time offer.